French Onion Soup that is!
When I cook, I look at a couple different recipes at once.
& I add in my own ingredients...
Sucks when someone wants the recipe.
& when I need to make it again.
But this soup came out so ahhhmazingly yummy!!
I love French Onion Soup:)


Here's my rendition of french onion soup: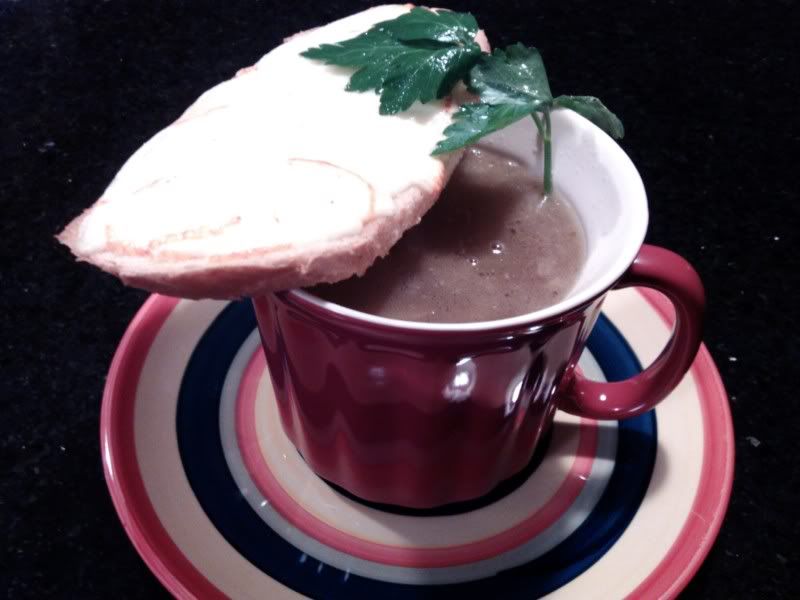 Si's Frenchy Onion Soup
Ingredients:
~2 Yellow Or Sweet Onions (forgot to take a pic of those:/)
~3 Tablespoons butter
~32oz Beef Broth
~1 teaspoon Worcestershire Sauce
~2 Tablespoons dry white wine, more for drinking;)
~Dash Black Pepper
~6 slices french bread, toasted (I used sourdough because that's what I had on hand)
~1 cup shredded Swiss, Gruyere or Jarlsberg cheese
(I used Muenster, what I had, but def get either of the three cheeses above it makes a diff)
**
Destruction's:
Melt butter in large saucepan, add onions, cook, covered over medium low heat for 8-10 minutes or until onions are tender. (Or as long as it takes to take a lap around the kitchen with a hot wheels car with your son)
Stir in broth, wine, Worcestershire sauce and pepper.
Bring to a boil, reduce heat and simmer covered for 10 minutes (or as long as it takes to clean off the crayon on your mirror that your son drew for you)
If you don't have a child drawing murals for you, you can sprinkle the toasted bread with the cheese and place under broiler until cheese melts and turns a light brown.
Caution: do not, I repeat do not walk away from the stove no matter what happens. You will in fact burn the effing bread. Happens to me all the time!
Serve soup in a pretty bowl and throw the bread on top!
and proceed to chug the very hot liquid in the five minutes you have to eat!
**I would add garlic and mushrooms to the soup next time!
So yummy and my son even ate it!!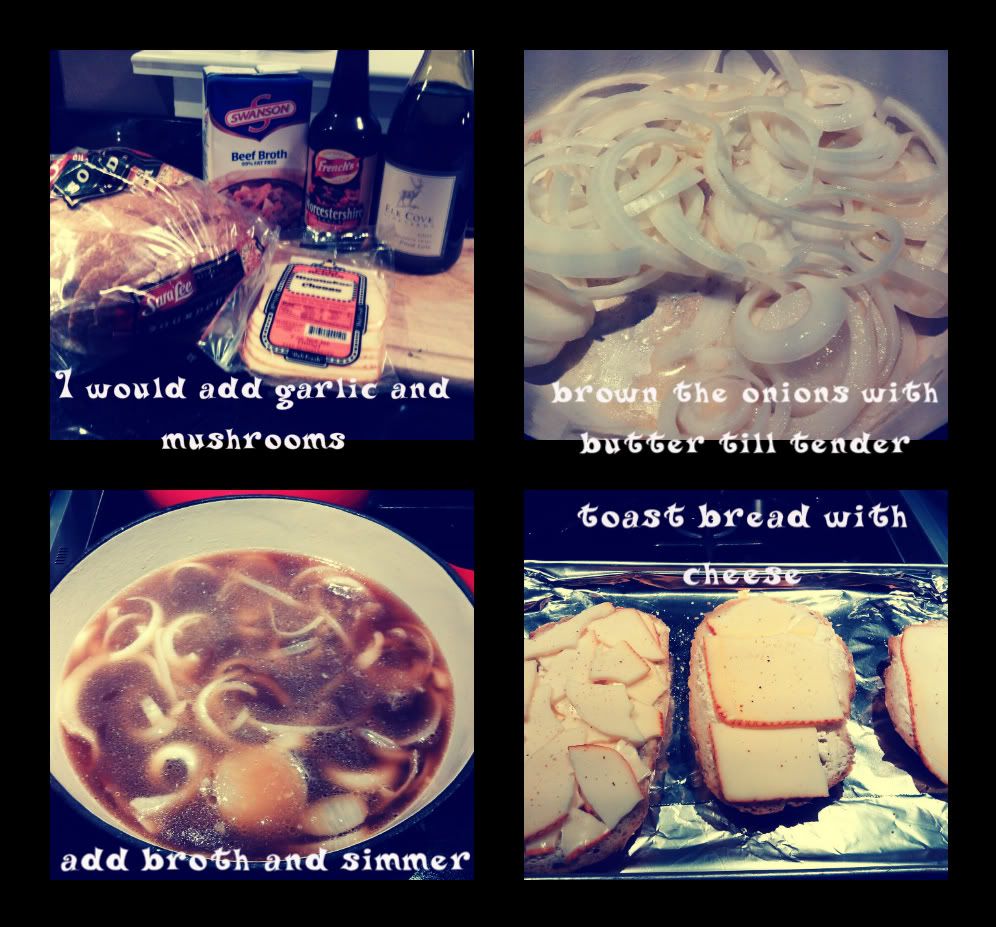 I am sure there are numerous renditions of this amazing soup.
This was quick and fast!
Enjoy!