in my dreams.
Yeah, that's where that was.
Imagine my disappointment when I woke up.
I wasn't living in my new house, with my new furniture.
That made monday that much harder to wake up to.
I normally don't buy lottery tickets.
But, I happened to watch this little show the other day called lottery winners
and
where they are now.
So, I had to go buy a mega bucks ticket
and immediately start planning what I would buy, remodel and how soon I would be on a tropical vacation with both my boys in speedos!


I started with the house.
All of these pins courtesy of
Pinterest
of course!
Come find me!
Lets build it!
The front door, the first impression...
The entryway, a mirror to check yourself one last time on the way out
The living room, loving the ceilings
The kitchen, swoon!
dining room
where we drop our pants
the other place we drop our pants, love brick walls!!
bathroom
a must for any house, closet...
either one will do!
like mine would ever be that clean!!
where our guests will stay
and bathe...
outdoors
Linking up with Raven @
Don't quote the Raven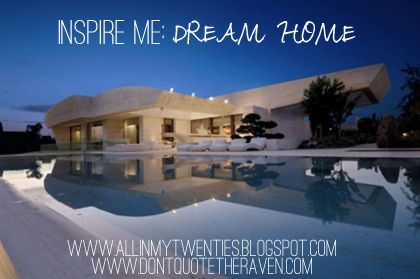 and
Michelle @
The Vintage Apple
Besos loves!